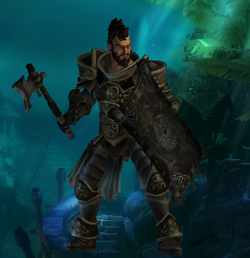 Warriors are specialists in the handling of weapons and can take a lot of damage before dropping, but they are poorly trained in other talents.
See Vanguard for sub-profession.
Strengths
Edit
Trained in fighting with one-handed and two-handed swords.
Great body control
Elemental knowledge of treating wounds
Weaknesses
Edit
No experience in the wild
Untrained in ranged weapons
Starting talents
Edit
Starting special abilities
Edit
Attributes
Base values
CO (Courage)
13
VP (Vitality)
39
CL (Cleverness)
10
AT (Attack)
7
IN (Intuition)
12
PA (Parry)
7
CH (Charisma)
9
DG (Dodge)
7
DE (Dexterity)
10
RC (Ranged Combat)
7
AG (Agility)
13
INI (Initiative)
10
CN (Constitution)
13
RM (Resistance to Magic)
5
ST (Strength)
13
ASP (Astral Energy)
0
SD (Speed)
8
Ad blocker interference detected!
Wikia is a free-to-use site that makes money from advertising. We have a modified experience for viewers using ad blockers

Wikia is not accessible if you've made further modifications. Remove the custom ad blocker rule(s) and the page will load as expected.